9 Tips to Master Your Makeup Mirror
If I asked you about your beauty essentials, I bet a vanity mirror is not the first thought that comes to mind. Foundation yes, mascara obviously; but a mirror?
Consider though, even if your fairy godmother sent you some caviar-infused La Prairie (check it out – you won't believe the price), how are you going to tightline without a mirror? But with a perfectly lighted mirror and a bit of skill, you can look beat with $5 drugstore cosmetics.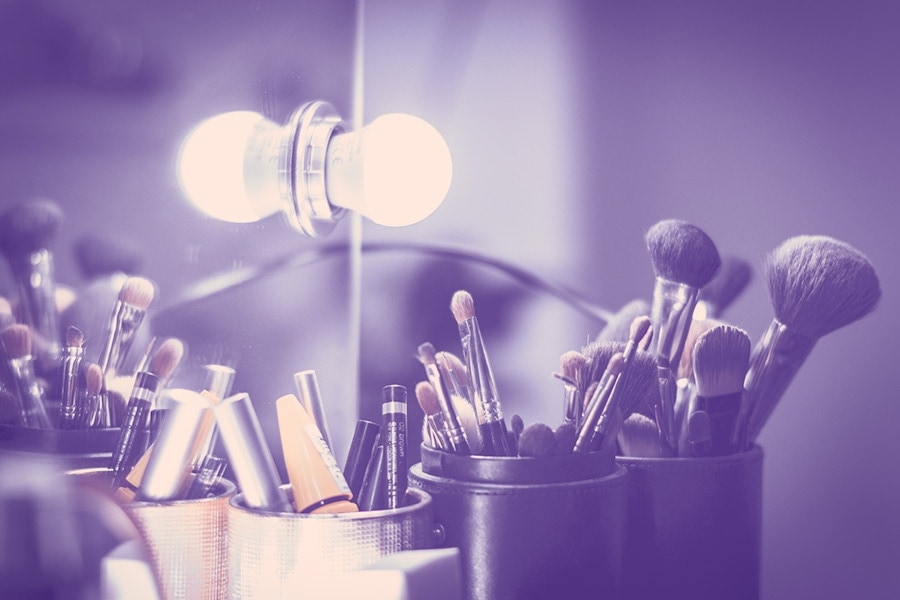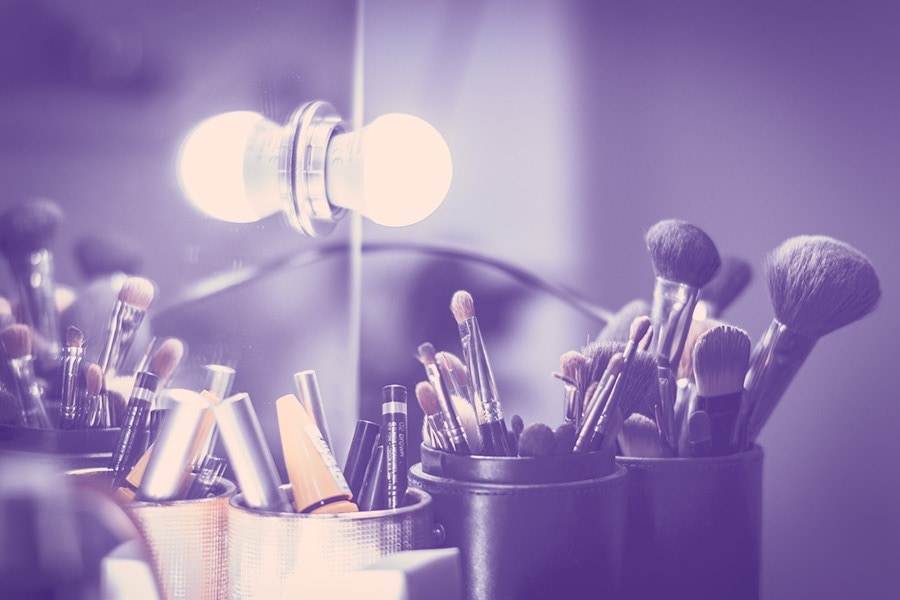 So forget the caviar, ask the fairy for a decent mirror (and then point her to this guide – more than she ever wanted to know about choosing a makeup mirror).
Tabletop Makeup Mirrors: Your Single Best Choice
If you only have one type (and you shouldn't – you need four – read on), free-standing tabletop makeup mirrors are the way to go. They're very versatile, and there will be one for every situation.
How to Choose a Makeup Mirror?
Generally speaking, the more features the better, so long as it is not at the expense of quality. Quality matters, quality always matters in tools you use every day. You'll soon grow tired of iffy green lighting and a foggy reflection.
You should also consider your existing vanity workspace. Would a large base take up too much desk surface? Is the ambient lighting good enough, or would a lighted mirror be helpful? (Answer: No and Yes respectively). Is there an electrical outlet nearby, or would cordless/rechargeable be better? How's your vision (paradoxically, you might not be able to focus close enough to use a high power magnifier)? If the mirror is adjustable, does it actually stay at the desired angle? Who knew there was so much to consider?
Do you like the shape and style of the mirror itself? Does it add to the atmosphere of your vanity? After all, you're putting on makeup to look and feel good, and this starts before you reach for the Revlon.
If you're on a budget, the best compromise is to choose a smaller but well-made mirror. But seriously, you're only going to buy a couple of makeup mirrors in your entire life, so it makes sense to treat yourself!
P.S. What is a Vanity Mirror Exactly?
How do we define vanity mirror? The answer is a little confusing, as the term "vanity" is used in all sorts of ways. But here's the way I think about it:
Vanity mirror – applied to any mirror used mainly for checking appearance. Can be any size, but most often small. E.g. in a car sun-visor, or makeup compact.
Makeup mirror – a type of vanity mirror, usually freestanding, small to medium sized
Vanity Hollywood mirror – larger, with lights, often built in to a table. Sprinkled with awesomeness and glamor.
Vanity – a (section of a) room with furniture, lighting and a mirror
I'm glad we've got that cleared up!
Large "Hollywood" Vanity Mirrors
You've all seen the classic image of this: warm bare bulbs ringing a large mirror, reflecting a goddess with flawless complexion, seductive lips and warm bare shoulders. And that could be you.
The original version with incandescent bulbs attached directly to glass is still the standard to beat. But modern versions with LED lighting, color settings, dimmer switches, USB outlets, speakers and more are every bit as effective, even if they don't quite have the same glamor.
Their main selling point is the quality of the light. Rather than coming from a single "point" source, the ring of bulbs gives even and uniform illumination without shadows, absolutely perfect for applying makeup, hair styling, accessories and color matching.
Compared to smaller makeup mirrors we discussed above, they are much better for checking out your entire image from a slightly greater distance and with your entire head and shoulders in the frame. But honestly, I think a girl who wants to impress deserves both!
Hollywood mirrors can be free standing, wall-mounted or come as part of a vanity desk. Bear in mind the base of a freestanding Hollywood vanity will take up a lot of room on your desk. These types work well on top of a makeup stand, reclaiming some of that lost space and putting a smaller mirror at the correct height.
Wall-Mounted Mirrors Are Tricky
Wall-mounted mirrors are a higher risk option. If you choose wisely, they can be the best of all solutions (My review – best wall-mounted makeup mirrors). But they're not especially versatile, and there's also real potential for making an expensive mistake. My reviews will help you get it right.
There are two scenarios you might particularly want to consider them.
The first: you use a bathroom as your main vanity area. Now, in my house, the bathroom is far from the best place to be getting ready. The steam from the shower guarantees a bad hair day, the mirror is not well positioned (and usually covered in condensation), the lighting is harsh, and there's a large man in the way.
A bathroom refit is a great time to get professional advice on installation and lighting, hopefully avoiding some of these issues (although there's not much to be done about the man problem). Anti-fog mirroring is essential. You should seriously consider a large tri-fold mirror with storage space behind it, and a smaller wall-mounted flexible/adjustable makeup mirror.
The second scenario is when you're in your "forever" home, and have been waiting for this for a long time. In that case, you go girl! The only specific tip I can give is to consider the distance you will be sitting from the wall. If you're short-sighted, or if your desk is too big, you might find yourself uncomfortably leaning forward.
Suction That Actually Sticks
Suction cup mirrors are interesting. I would consider one if you already have a large wall-mounted mirror, but need a smaller makeup mirror.
You can buy them in plenty of stores, and it's easy to find one that you can stick to your main bathroom mirror. That stops you from having to drill holes in your wall or find counter space, so there's something to be said for getting one of these.
That said, some suction cups just aren't very good. Suction cups aren't very complicated, but many companies produce suction cups that are flimsy or just not suitable for the weight of a vanity mirror. A suction makeup mirror needs to have a lot of holding strength, especially if you want to leave it up all the time.
Apart from poor design, the rapid fluctuations in temperature occurring in bathrooms contribute to loss of suction
Fortunately, there are a few ways to make suction cups stick better. Regularly using these strategies can help ensure you get a good vacuum seal. In particular, pay close attention to the cleanliness of the suction cup right after you buy it. It may be a little dirty from the manufacturing process, and that dirt is often what makes suction cups fail.
The good news is that we may be getting better suction cups on products in the near future. I always love seeing breakthroughs in technology, especially when they start making life easier for us.
Using Lighted Mirrors Correctly
True story: the first time I used a lighted mirror for makeup application, I looked terrible. The colors and blending were way off. So upsetting, particularly as it was an upmarket model. But I soon realized it wasn't directly the fault of the mirror lights. We had just put fluorescent lights in the room (this was before LED bulbs really took off), and they had a low color rendering index. My makeup mirror with lights just couldn't compensate for the low quality of the bedroom bulbs!
From that, I learned a valuable lesson: Lighted mirrors can help, but for applying makeup accurately, you have to consider your entire lighting environment. Lighted makeup mirrors augment your existing light but don't replace it, especially if the main bulbs are bright. If you want to use lighted mirrors properly, don't rely on them for everything.
Most experts recommend using a low-wattage, low-lumen bulb for a lighted mirror. Unlike most lights, which are meant to illuminate a whole room, lighted mirrors only need to cover a small space. More to the point, you shouldn't need to wince at the brightness and look away from the bulbs when doing your makeup.
Incandescents work well because they show a lot of detail in the red to yellow range, which is where most makeup falls. Nowadays though, LED lights are a good option. They can have different light settings (color, brightness, temperature), are energy efficient and long lasting, and come in many different styles and designs. Of course, nothing beats proper daylight, but we can't have that on-demand.
Wait, This Is Basically Photography, Isn't It?
If all this talk of lighting conditions sounds familiar, you might be a photographer. The same principles that work in photography apply to makeup. For a truly accurate application, you need to consider details like the hue of the light in your room and how bright your lights are.
It is also important to consider your destination. If you're going to work in an office under blue lights all day, applying your makeup under traditional orange lights could throw your color matching off a little. After all, what looks good under one light may not look good on others.
Here's a quick guide to how lighting affects photography. For a great look, mastering light is key.
Similarly, here's a guide to adjusting the light in your bathroom. There are many options out there, but the good news is that you only have to do most things once.
Getting The Details with a Magnifying Mirror
Magnifying mirrors are often found on one side of a double sided "flippable" makeup mirror (either tabletop or wall-mounted). They are also common in a handheld design.
I'll keep this simple: Everyone should have at least one magnifying makeup mirror. These make it faster and easier to see the subtle but crucial details in brows and eyes, meaning you get it right first time, and in less time. They're also essential for tweezing accurately.
Read my longterm review of the best lighted magnifying mirror, still my favourite after eight years of daily use. Or if you need a higher power mirror, check out my buying guide for lighted high-power magnifying mirrors.
What Magnification Level Do I Need?
That depends on factors like your eyesight and what you want to use the mirror for. As noted by Langria, most people use a 3x-5x zoom level, which is ideal for normal everyday use by younger women. If you're sharing the bathroom with a man, this is also a good zoom for shaving, so it can pull double duty.
If you're older or you want to work with exceptionally good detail, consider getting 7x – 9x instead. This will show individual eyelashes and skin pores, but it can also make you feel a little self-conscious if you spot wrinkles and blemishes not normally visible.
Most people don't need a zoom of 10x or higher. This shows only a small part of your face, and the laws of physics means it's only viable on pocket-sized mirrors (large mirrors would be too expensive, distorted and difficult to use). Although professional makeup artists swear by them.
I zoom in with more detail on magnifying mirrors in this article here…
Getting Accessible Makeup Stands
Makeup stands are small containers you can put on the vanity table to add storage and a wide, flat base. Of course, most dressing tables are pretty flat to start with, so the real value of makeup stands is elevating your mirror to a more comfortable level.
Hunker suggests placing mirrors 54-60 inches off the ground if you're standing, or 38-44 inches if you can sit down. This puts the mirror slightly below eye level for most people, which is the ideal height.
4 Things Every Good Makeup Stand Needs
A great makeup stand should have:
Several drawers for holding makeup and tools
At least one cylindrical column on the side for holding tall items like eyeliner and brushes
A plug for any electrical or electronic features
Handles
Seriously, I can't overstate how important the handles are. They make it so much easier to lift and carry a stand whenever you need to move it. Never underestimate the value of simple features.
Travel Mirrors Are Your Best Friend
When I was a young girl, I thought a travel makeup mirror was exclusively for vacations. Silly, in retrospect, but that's what travel meant to me at the time. I've since realized a small portable mirror is essential for everyday use.
Despite the claims of makeup manufacturers, most makeup doesn't last all day. Cosmopolitan has a lot of tips to help with that, but a lot of the issues are out of your control.
The warmer and wetter your environment, the faster your makeup will come off. I've talked to women working in kitchens and heard stories of makeup coming off in as little as four hours, and even outside of those circumstances, many brands of makeup simply don't last long enough.
Compact mirrors make it significantly easier to reapply makeup and touch up specific areas in the middle of the day (here's my review of the best compact mirrors). If you're working in an area where this matters, you need a great travel mirror.
Why Little Cases Aren't Enough
Smaller is better, right? That's what smartphone manufacturers keep telling me, anyway, and some of them seem dedicated to creating the thinnest products possible. That's neat and all, but tiny travel mirrors aren't good enough for most jobs.
I suggest looking for a slightly larger mirror, so long as it will still easily fit in your usual bag. Build quality is also especially important for travel mirrors. They get a lot of abuse, and the last thing you want is broken glass in your purse. Search out a durable outer shell and a well designed and manufactured hinge. And check out the seal; I've seen plenty of nicks and scratches on the mirrored surface caused by tiny things in my purse worming their way through the seal.
Handheld Hardware
I have another confession to make: Once I learned that travel mirrors were for everyday use, it took me considerably longer to realize there's a difference between travel mirrors and a handheld makeup mirror.
Travel vs. Handheld Mirrors
Put simply, travel mirrors have a hard exterior case and a foldable clamshell design while handheld mirrors do not fold and are generally cheaper products. In fact, most of the handheld mirrors I've seen are simple plastic around a relatively low-quality mirror. Fortunately, this helps keep the cost down.
Everyone needs a smallish mirror that is easily picked up and carried. They're unbeatable for sheer versatility. I use mine for checking different angles of my face, moving briefly to a different light source, and reflecting hidden areas (earrings, ponytail etc) back into my main mirror. I've written a guide to the best six hand-held mirrors here.
They have one major disadvantage however, which prevents their use as your only mirror. Apologies for pointing out the obvious, but they need to be held by a hand. Your hand, the one you can now no longer use for styling hair and holding beauty products.
If you only want to buy one portable mirror, travel mirrors are fundamentally better (so long as it's not too small). They're sturdier, have higher-quality materials, and sometimes have compartments for holding makeup.
The main reason for the difference here is that travel mirrors are actually designed to travel, which means getting bonked, jostled, hit, smacked, and otherwise exposed to all manner of impacts. If it's not durable, it's going to break quickly.
Incidentally, that's the other reason to focus on quality. Broken mirrors are dangerous, so the sturdier your mirror is, the safer you're going to be.
Mastering The Vanity Mirror – My Recommendation
Okay, by this point, you know a lot more about the different types of cosmetic mirrors and how to get the most out of them. From makeup lighting that fits your daily situation to integrating with a makeup organizer that makes a routine easy, your makeup mirror is way more than just a way to style your hair.
If you only have space or funds for one, my strong recommendation is:
If you're inspired by Huda, or simply want to look your stylish best every day, you need (and I do mean need):
Chris Rock was on to something when he riffed:-
" Women cannot go backwards in lifestyle
Not in men, in cars, in vacations … And now we can add makeup mirrors to that list.
Once you've set up your vanity properly, you'll never do without again.
Next, read my highly opinionated review of the best makeup mirror ever!